RHP Properties Donates $5,000 To Farmington Area Goodfellows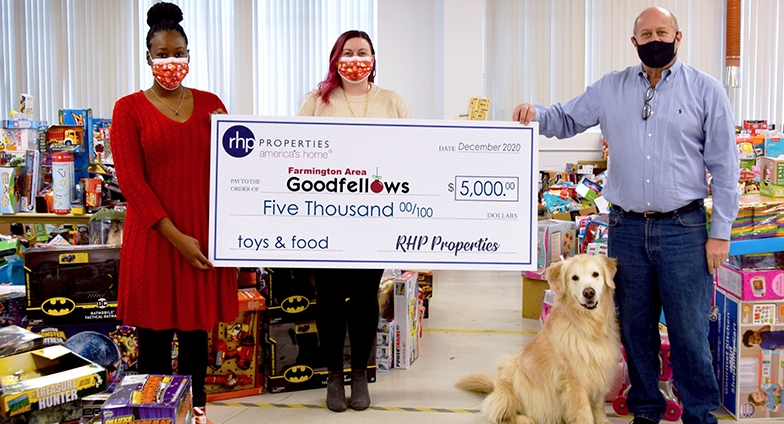 FARMINGTON HILLS, Mich. – Dec. 28, 2020 – The Farmington Hills corporate offices of RHP Properties, the nation's largest private owner and operator of manufactured home communities, continued its holiday tradition with its 17th annual donation program with the local nonprofit organization Farmington Area Goodfellows. This year, due to COVID-19 safety protocols, RHP employees raised funds, in lieu of collecting toys, for the Goodfellows.
RHP Properties staff raised $2,500, which was matched by the company, for a total donation of $5,000.
"All of us at RHP Properties are honored to assist the Farmington Area Goodfellows in their mission to provide for families during the holiday season," said Ross Partrich, CEO, RHP Properties. "The generosity of our employees shows our commitment to the community, and to this organization which works to ensure no child or senior goes without a Christmas."
The Farmington Area Goodfellows is an all-volunteer charitable organization that has been assisting families for more than 60 years. In an average holiday season, the organization expects to support over 400 children, families and seniors within its service area of Farmington and Farmington Hills. However, due to the pandemic, the need is expected to be much greater this year. Cash donations are appreciated and are used to purchase cards which can be used at local grocery and clothing stores for families and seniors in need of assistance. For more information or to help, visit https://goodfellows.info
"On behalf of the Goodfellows, I wish to thank RHP Properties for their generous donation," said Richard Lerner, President, Farmington Area Goodfellows. "In a year when nothing has been easy, RHP came through with $5,000 in donations that helped us put food on the table for our neighbors in need and toys for their children at Christmas. We were also able to serve 90 seniors and 30 developmentally challenged adults. Thank you again."